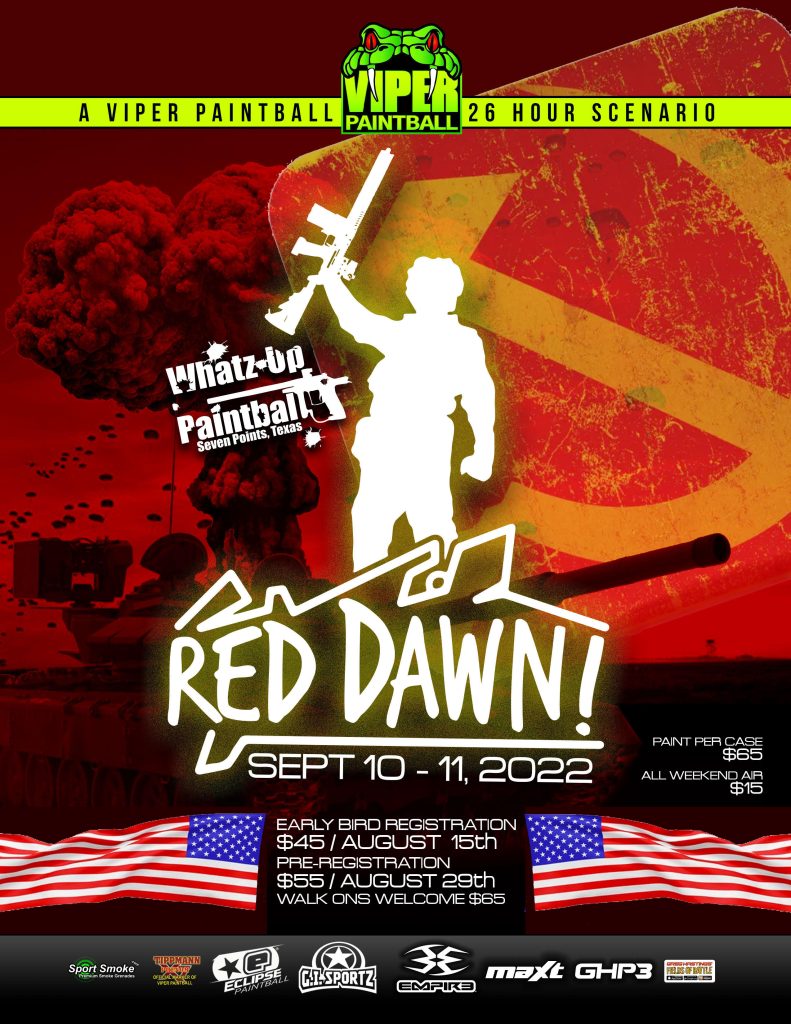 "Red Dawn in Texas" at Whatz Up Paintball
09/10/2022 – 09/11/2022
Whatz-Up Family Fun Park – Near Dallas, TX – THE FINAL VIPER PAINTBALL EVENT!
JOIN THE OFFICIAL FACEBOOK GROUP FOR THE EVENT HERE
Click here for the Official Viper Scenario Rules
Story
The time is late 1984. The Soviet Union suffers their worst wheat harvest in over 50 years.  Labor and food riots in Poland draw a Soviet invasion.  Cuba and Nicaragua build armies of a half-million soldiers as El Salvador and Honduras collapse. The German Parliament demands the withdrawal of all nuclear weapons from European soil. Mexico has plunged into revolution, and NATO is dissolved.
The United States stands alone.
In a bold move Soviet military transports posing as civilian charter flights release thousands of Soviet paratroopers over key U.S. locations, as Communist troops flood in from the south through Panama and Mexico. Tactical nukes were the final crippling blow. Sixty divisions of Soviet infantry crossed eth Bering Strait and invaded from the north.
The attack was unexpected and caught everyone by surprise. Both sides refused to use nuclear weapons after the initial confrontation; America because it's our home soil and the Soviets because they need to take what we have, not incinerate it.
However the Soviets and their allies underestimated the will and resolve of Americans. That and estimates that America has nine guns for every ten people. After the initial shock these two issues combined and resulted in a fierce counterpush to the Communists. In some areas the invaders were defeated and pushed out.
Texas is one of those regions where victory seems within their reach.  It's a larger issue than just the local fight. Retaking Texas would mean resecuring the Port of Houston and closing a major Communist resupply and reinforcement route on land.
So the battle rages on one of the key battlefields in this conflict that will, no doubt, be labeled WWIII. Who will win? You will help decide as Whatz Up Paintball and Viper Scenarios brings you "Red Dawn in Texas!"