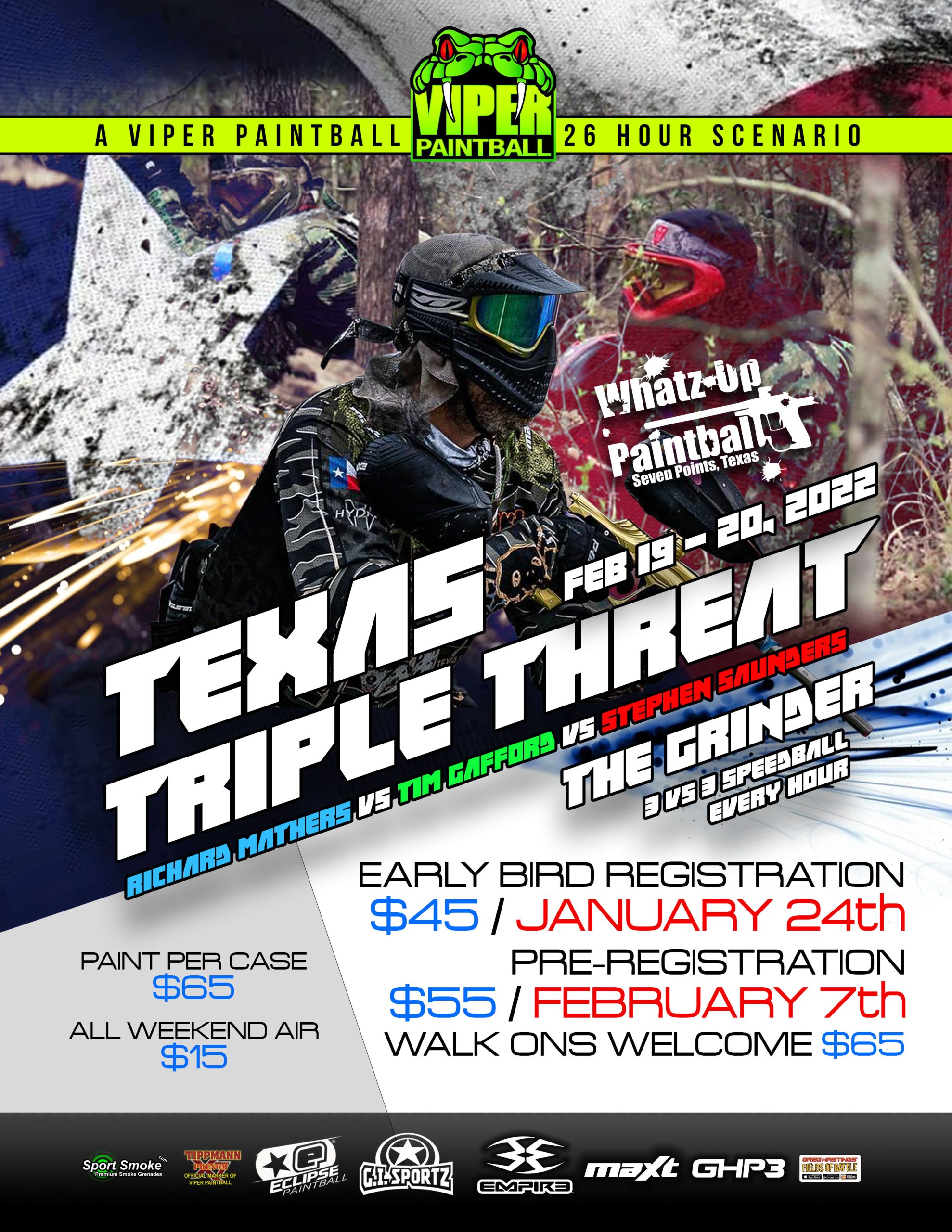 02/19/2022 - 02/20/2022
Whatz-Up Family Fun Park – Near Dallas, TX -
Texas' Unique Three-Way Slugfest!
Got questions? Want updates? Join the official Facebook group for the event!
Click this link for the official Facebook group for Viper Paintball's Texas Triple Threat Scenario Paintball Event
Click here for the Official Viper Scenario Rules

Special rules for Texas Triple Threat
Commanders will start from a predetermined HQ. They will rotate, clockwise, to the next HQ at the beginning of the night phase, and again SUnday morning. That means that all three commanders, and their armies, will get to play from each of the three HQs.
Armband tape will be required on all players. Tape must be on your left or right bicep. It must be a full wrap of one full-width band of tape.
Normal rules will apply for medics, engineers, snipers, etc (See Official Viper Scenario Rules)
Scores will not be divulged during the game so as not to adversely affect level of motivation or morale.
We will deal with alliances is as follows:
There are "declared" and "undeclared" alliances.
A declared alliance means that both commanders have alerted their base ref to the existence of said alliance. If that is the case both allied teams will receive half points for completed missions.
An undeclared alliance means that the players simply stopped shooting at each other. If this is the case they receive no points for completed missions.
Any and all apply to the entire hour they take place in. That means if the refs witness an alliance at 2:55 all of the missions during the 2 o'clock hour will be affected.
"The Grinder"
At 1pm each commander will send in one three-man team. Each team will privately state their wagered mission points to the grinder referee upon arrival. Maximum wager is 50 points. They will play a round robin style tournament on the speedball fields. This continues each hour of the event.
(Randomly determined order)
Red vs Blue
Red vs Green
Blue vs Green
Center flag games
7 Minute time limit
+5 for first pull
+10 for the hang
+2 per enemy elimination
(Max = 21 points)
Expired time results in award of points scored during the seven minutes.
1st place = Wager amount rewarded
2nd place = Break even
3rd place = Loss of wagered points
This repeats each hour. If only two teams show up then first and second are awarded as stated above. If only one team shows it's an automatic first place.
No player may participate in more than one grinder per day.
So you see, you must EARN the right to compete, the risk is up to the commander, and not showing sets the other side up for an easier bonus. If you think you're ahead gamble carefully. If you are behind you can take a bigger risk change the spread…one way or the other.
Field Map
This is the map from last year. I am waiting for info so that I can fill in the area around objective #13. That is the new Final Battle field. As soon as I get some more detailed info I will get that updated and upload the updated map.
CLICK IMAGE FOR HI-REZ MAP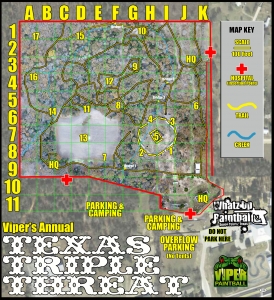 Modified Schedule of Events
Friday
Noon – Camping opens
5:00pm – Check in and paint sales open
6:00pm – "Upper Level" bar opens
6:15pm – Commander/XO go cart race for bonuses!
8:00pm – Check-in closes (May close early if check-ins slow down)
Midnight – Quiet time – Camping areas need to be quiet. No loud partying.
11:00pm – "Upper Level" bar closes. (May be earlier)
Saturday
8:00am – All services open
10:30am – Mandatory Player Orientation
Noon SHARP! – Game on
4:00pm – Dinner Break
6:00pm – Game resumes
10:00pm – Stand Down
Sunday
8:00am – All services open
9:00am – Game Resumes
12:30pm – Pre Final Battle Break
1:00pm – Final Battle
2:00pm – Game Over!
Awards and door prize drawings to follow
Location and Directions: