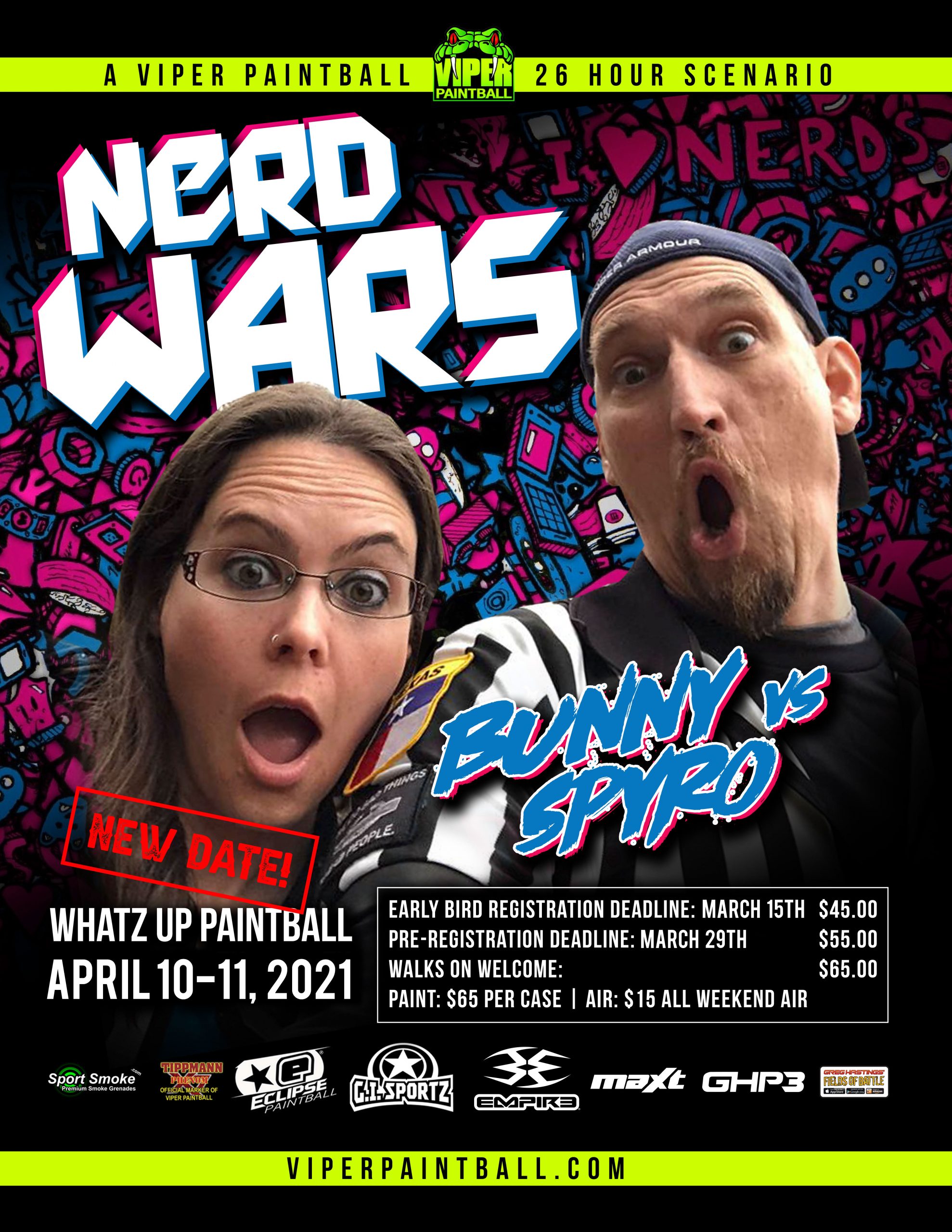 04/10/2021 - 04/11/2021
Whatz-Up Paintball – Near Dallas -
The nerdiest event ever at Whatz Up!
Click this link for the official Facebook group for the event
Click here for the Official Viper Scenario Rules
Some game elements we are working on:
Hourly "themes:"
Each hour of play will have a theme. At the top and bottom of that hour there will be a quiz available at Viper Central Command. Each side can send people who are familiar with that particular subject/genre. WITHOUT USING PHONES OR RADIOS each side will work together to answer the questions. Once completed they will turn in their completed quizzes. Best score will receive a 10% bonus to the missions they complete from the corresponding mission packet. (If blue scores highest on the 1pm quiz they will receive a 10% bonus to all missions completed from their 1pm mission packet.) In the event of a tie the first one who turned in their completed quiz will receive the bonus. If they were turned in simultaneously BOTH sides will receive the bonus.
_______________________________________
Roving NPCs
These NPCs will be associated with a particular theme. Find them and answer their question and receive 10 points for your side. Questions must alternate between sides. Once you receive a question, regardless of your answer, your side cannot receive another until the other side has had a chance to answer a question.
________________________________________
DM (Dicemaster) – New MOS
Each dicemaster will receive a d6 (six-sided die). If they accompany a mission they may roll their die, AS A LIVE PLAYER, with the ref who will sign off on the SECOND PART of the mission. (The first part must be completed)
1 = Mission is worth half points
2 = Mission will take an extra 5 minutes to complete
3 = No effect
4 = Remaining time cut in half
5 = Mission complete
6 = Mission complete with 50% score bonus
Schedule of events
Friday
10:00am – Camping opens
5:00pm – Check in and paint sales open
8:00pm – Check-in closes
Midnight – Quiet time – Camping areas need to be quiet. No loud partying.
Saturday
8:00am – All services open
10:30am – Mandatory Player Orientation for ALL players Noon SHARP!
Noon Sharp– Game on
6:30pm – Dinner Break
8:30pm – Game Resumes
10:00pm – Stand Down May be earlier or later depending on participation and number of players on the field
Sunday
8:00am – All services open
9:00am – Game Resumes
12:30pm – Pre Final Battle Break
1:00pm – Final Battle
2:00pm – Game Over!
Awards and door prize drawings to follow
Location and Directions: