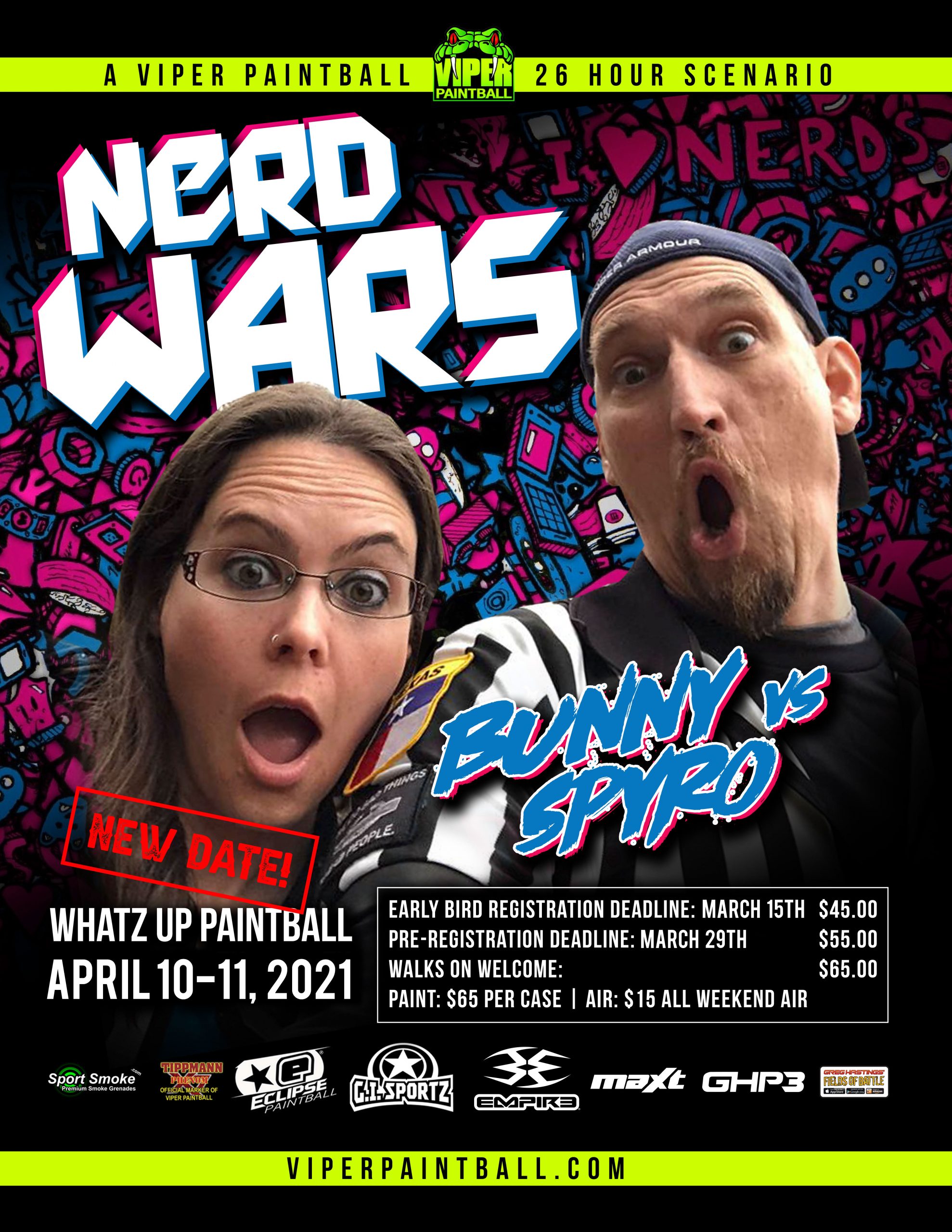 04/10/2021 - 04/11/2021
Whatz-Up Paintball – Near Dallas -
The nerdiest event ever at Whatz Up!
Click this link for the official Facebook group for the event
Click here for the Official Viper Scenario Rules
Event Specific Rules for "Nerd Wars"
First Strike Rounds (FSRs): First Strike rounds are welcomed, with a few exceptions where up-close engagements are likely. No one may fire FSRs, in any direction, if they are within the "Steel Fortress." No FSRs during the night segment. During the Final Battle there will be lines drawn at around the "30 yard line." Players between that line, and the center of the field, are prohibited from firing FSRs.
DM (Dicemaster) – New MOS : Each dicemaster will receive a d6 (six-sided die). If they accompany a mission they may roll their die, AS A LIVE PLAYER, with the ref who will sign off on the SECOND PART of the mission. (The first part must already be completed) THE DICEMASTER MUST BE PRESENT DURING THE ENTIRE MISSION.
1 = Mission is worth half points
2 = Mission will take an extra 5 minutes to complete
3 = No effect
4 = Remaining time cut in half
5 = Mission complete
6 = Mission complete with 50% score bonus
Pocket protectors: Each commander will have opportunities to acquire official "pocket protectors." These can, then, be given to players. A PLAYER MAY ONLY CARRY ONE OFFICIAL POCKET PROTECTOR! If you are eliminated in a way that qualifies to be healed by a medic, you may call out to a referee and yell "POCKET PROTECTOR!" When the referee reaches you surrender your pocket protector to them and they will reinsert you into play. A player who has called "POCKET PROTECTOR" is neutral and not to be targeted. You may, however, barrel tag them, at which point they must exit the field.
Legos: At the top of each hour commanders can send a player, or players, to compete in the Lego contest. Each side will be given duplicate sets of random Legos and a base. Then the bookstore clerk will draw a card, at random, and the two players/teams will have 20 minutes to build the item on the card. After 20 minutes the one judged best, by the judges, will receive a 10 point bonus to their score.
Jocks: The Jocks are the third faction. You can usually find them around the "Field House." They have control of the fuel for tanks and helos. They may also have a tank or helo of their own. They may also be persuaded to provide some "muscle" if you need extra help with missions. They are especially effective because, since they are tough and athletic, it takes TWO ELIMINATIONS to take them out. (an "elimination" can consist of multiple hits) Head shots, snipers, demos, etc will still eliminate them like any other player. THEY ARE INVINCIBLE WITHIN 100 FEET OF THE FIELD HOUSE. In addition, they also have exploding footballs that can be used only by them. With regard to rules they are treated like Nerf rockets.
The Bookstore: Located next to Central Command, the bookstore can provide very useful information. Many times this information will be essential to completing a mission. This is also where the Lego competitions will take place. (The bookstore will be closed after 6pm on Saturday, and reopen Sunday morning. If a mission requires a trip to the bookstore you must get your mission card stamped by the store owner before you can proceed with the mission. You can, however, reinsert as soon as you have what you need.
Mission Types: Along with the regular missions there will be theme-based nerd mission types. These include "Throw childish insults, Slapfight the objective, Pace off the total distance and divide by three (patrol), LARP, Take photos and PM to your HQ (must be to someone AT your HQ), Watch for UFOs for XX minutes, and discuss conspiracy theories. Each of these must be done with zeal and vigor. A perceived lack of enthusiasm by your referee may result in less points for the mission.
Schedule of events
Friday
10:00am – Camping opens
5:00pm – Check in and paint sales open
8:00pm – Check-in closes
Midnight – Quiet time – Camping areas need to be quiet. No loud partying.
Saturday
8:00am – All services open
9:00am– Young Guns Orientation at Loyalty Campsite (Kids 15 & under)
10:30am – Mandatory Player Orientation for ALL players Noon SHARP!
Noon Sharp– Game on
6:00pm – Dinner Break
8:00pm – Game Resumes
10:00pm – Stand Down May be earlier or later depending on participation and number of players on the field
Sunday
8:00am – All services open
9:00am – Game Resumes
12:30pm – Pre Final Battle Break
1:00pm – Final Battle
2:00pm – Game Over!
Awards and door prize drawings to follow
Field Map (Click image for higher resolution version)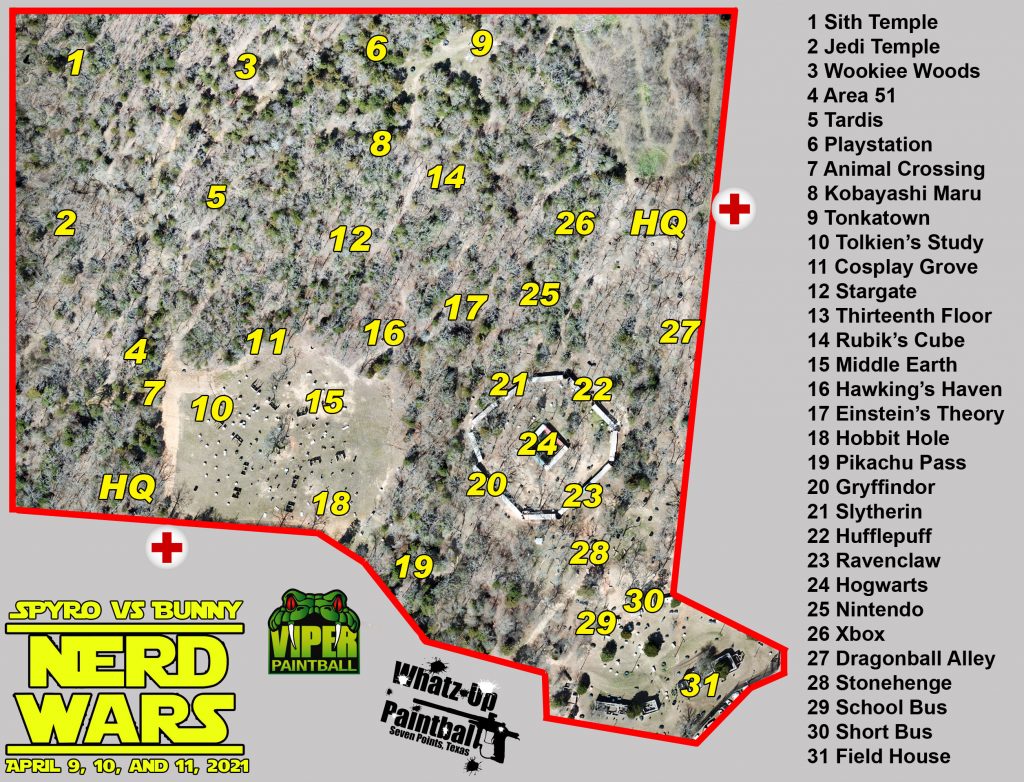 Location and Directions: