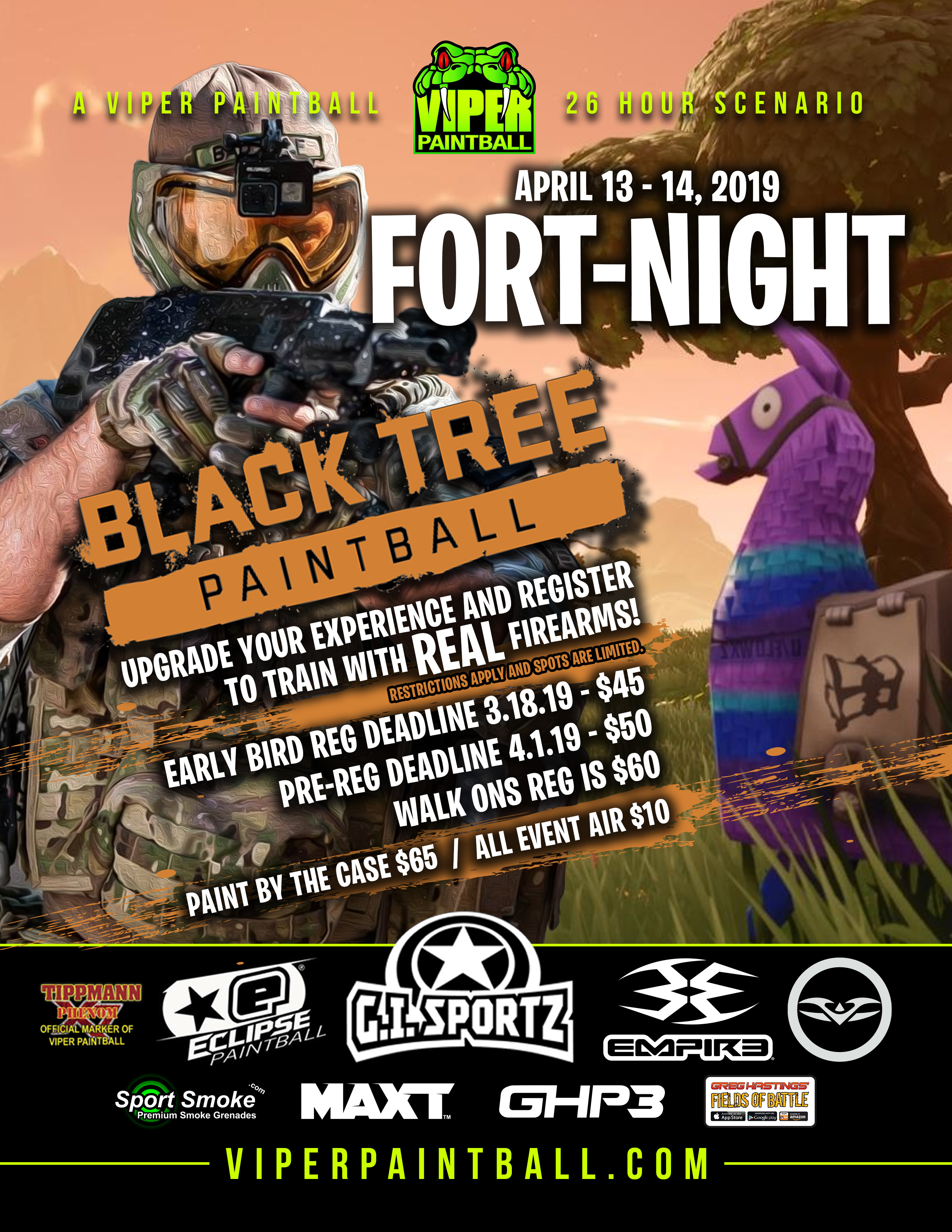 04/13/2019 - 04/14/2019
Black Tree Paintball - 285 Cottletown Rd
Our first event at Black Tree Paintball
[separator top="10″ style="dashed"] [accordian] [toggle title="Got questions? Want updates? Join the official Facebook group for the event!" open="no"]
Click this link for the official Facebook group for Viper Paintball's annual Texas Revolution event at TXR Paintball
[/toggle] [toggle title="Registration deadlines" open="no"] ONLY PRE REGISTERED PLAYERS QUALIFY TO WIN ANY OF THE MANY FREE MARKERS TO BE GIVEN AWAY AT THE EVENT. Late registered and walkon players can still win the other great prizes like hoppers, goggle systems, etc
$45 "Early Bird" entry by midnight on March 18, 2019
$50 "Pre reg" entry by midnight on April 1, 2019
$60 entry after these dates or at the event (walkons welcomed)
[/toggle] [toggle title="'Fort Night' – The Story" open="no"] No one seems to know, or understand, what has happened. All they know is that one evening they were all playing an online video game, when they suddenly found that they could not escape it. One minute they were sitting comfortably, holding phones and tablets and controllers when, suddenly, that part of their existence simply was gone. All they knew…all they could feel…..was their in-game presence. More and more people started showing up in this mega-map…all with the same story, and with no way out. Those who were trapped here only shared one thing in common. They all knew, somehow, that the only way back home was to survive the game.
The storm was raging as far as anyone could see, and if people could trust in what they saw they could tell the storm was engulfing everything and everyone into one shrinking and confined area. Resources were becoming scarce. Bands joined and became gangs. Gangs became large groups. Groups became mobs. Mobs became tribes. Finally, the tribes joined together to become two huge armies. One army tried hard to retain some semblance of civilization and humanity. They wore blue to identify themselves. They called themselves "The Survivors." The opposing army was more like a pack of wild animals on two legs. They were savage and brutal and determined to be the ones to survive the storm…at all costs. The referred to themselves simply as "Vengeance."
This isn't a world where you buy and trade, this is where you take and you destroy. As the storm spits out the occasional gift offering of more supplies to be fought over one thing can be certain, when the storm finally passes the war will be over and one side triumphant. But just as the massive storm of death, and life's meager supply drops, seem to be the new norm, another wave of panic and heartache approaches through the storm; the Husks with their sole desire to kill and drag everyone away. So who will prevail in the greatest of battles once the storm resides? Who will collect everything and who will survive… Fort Night?
[/toggle] [toggle title="Special game elements for 'Fort Night'" open="no"] Supply Crates: Supply crates will "drop" from time to time at random locations. Since, in the video game, you can see these falling from a distance, the ref will take it to the location, but players will not be allowed to touch it until the ref signals that the crate is in-play.
Backpacks: In order to retrieve items from a supply crate you must have an official backpack. (In game item)
A level one backpack will allow you to choose up to three items. Level two, five items. Level three, seven items. You must then return to your HQ and present the items to your command staff for distribution.
Backpacks cannot be taken by the opposing team, but items within can be taken in a "search the body" even by someone without a backpack. In this case those items must be taken directly and directly to your HQ.
Deployable bunkers: Once you have enough "building materials" cards an engineer may present them to your base referee and assemble two of the large panels (provided) into a bunker at least 20 feet, but no more than 100 feet, from your HQ. If this bunker is destroyed it must be disassembled and stored for future use.
(A referee may call a few players "neutral" and ask them to help do this. Be prepared to help.)
Husks: A zombie of sorts, these creatures have no sense of loyalty, alliance, or even purpose. They are there to hunt and kill, and that is all they are interested in. They will be clearly marked. They are not invincible, and the same things that eliminate regular players will eliminate a husk.
They will insert, along the tapeline, as a group of five or six. As each one is eliminated they must exit the field. They can ONLY insert as a group, so be careful once you eliminate the last one in the group.
Examples of special game items found in "Supply Crates" (All items provided by Viper)
Helmet: Protects against sniper shots
Armor vest: Allows wearer to ignore hits on vest without being eliminated
Super Rocket (Nerf): Fires as normal, but kills all AND destroys object within 20' radius
Pod of event paint: Self-explanatory
Energy Drink: Subtract 5 minutes from "time-to-complete" on one mission
Sport Smoke grenade: Uumm duh
Bandages: Regular Viper Scenarios bandage cards for use by medics
Bandage packet: Allows user to heal themselves from one non-headshot
Sniper Shot: Regular Viper Scenario sniper shot for use by snipers
C-4 card: Regular Viper Scenario C-4 card for use by Demo Techs
Building materials card: Can be collected and used to assemble bunker panels provided near your HQ. If one of these bunkers is destroyed it is disassembled and the panels stored near your HQ for future use.
[/toggle] [toggle title="Schedule of Events" open="no"]
Schedule of Events
Friday
10:00am – Camping opens
5:00pm – Check in and paint sales open
9:00pm – Check-in closes
Midnight – Quiet time – Camping areas need to be quiet. No loud partying.
Saturday
8:00am – All services open
9:00am – Young Gunz orientation for yournger players at the main stage hosted by Team Loyalty
10:30am – Mandatory Player Orientation
Noon SHARP! – Game on
8:00pm – Stand down
Sunday
8:00am – All services open
9:00am – Game Resumes
12:30pm – Pre Final Battle Break
1:00pm – Final Battle
2:00pm – Game Over!
Awards and door prize drawings to follow
[/toggle] [toggle title="Viper Scenario Rules" open="no"] Click here for the Official Viper Scenario Rules
[/toggle] [toggle title="Field Map" open="no"] Click image for hirez version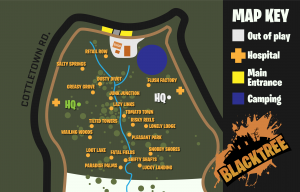 [/toggle] [toggle title="Team List" open="no"] BLUE TEAM Commander: Gavin VonHeuvel
Almost Human
Andrado
Archangels
Bab's Buccaneers
Bouzek
De La Garza
Disciples of Paint
Dogmen
Edwards
Garnica
Ghostriders
Headhunter Nation
Hicks
Honey Badgers
Judd
Lost Boys
Lost Boys Lil'Army
Loyalty
McConnell
Non-Profit Painters
Odyssey
Panke
Pump Rangers
Rodriguez
Simons
Sloth Patrol
Smith
Team Black Tree
Texas Bandits
Variety Pack
Zombros
RED TEAM Commander: Chris Scotting
254 Wolf Pack
Anderson
Armor Up
Aztec Warriors
Bellow
BlackList
Bolduc
Cazadores
COBRA
Frederick
Gorillaz0811
Hellions
Kennedy
Khaos Kompany
Lance
McCallister
MERC4HIRE
Monster Squad
Olvera
Player1
RedRum
Rios
RPM
S.W.A.T.
Sekelsky
Shirley
T. N. T.
Task Force Tiger
Team Aztec
Texas Immortals
Texas Population Control
Texas Rangers
Type 3
Wolfpack
X-RAY
[/toggle] [separator top="40″ style="dashed"]
Location and Directions: