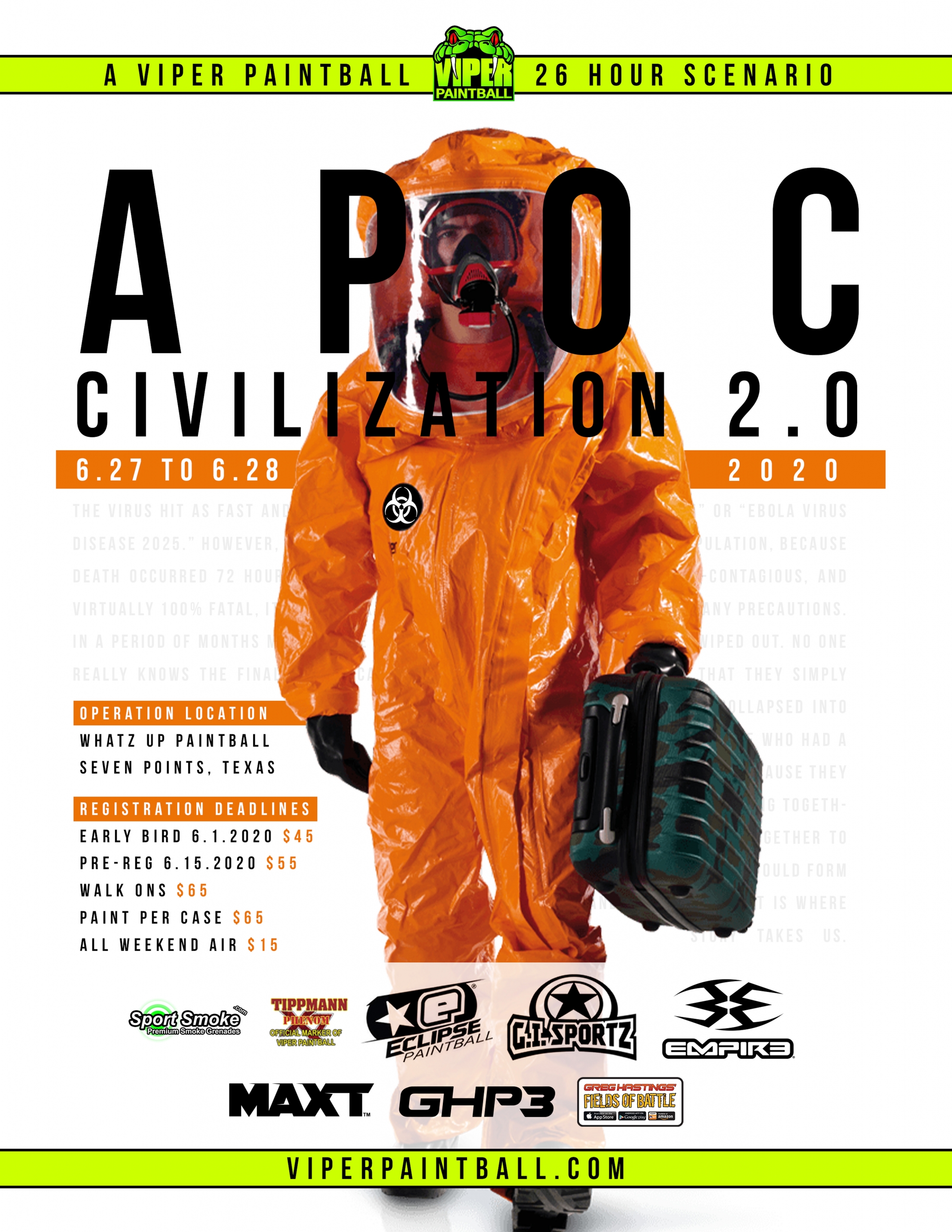 06/27/2020 - 06/28/2020
Whatz-Up Paintball – Near Dallas -
Our first 26 hour scenario at Whatz Up!
[separator top="10″ style="dashed"] [accordian] [toggle title="Got questions? Want updates? Join the official Facebook group for the event!" open="no"]
Click this link for the official Facebook group for the event
[/toggle] [toggle title="Viper Scenario Rules" open="no"]
Click here for the Official Viper Scenario Rules
[/toggle] [toggle title="APOC: The story" open="no"] The virus hit as fast and hard. Doctors and officials called it "EVD-25" or "Ebola Virus Disease 2025." However, it quickly became known as "D-72" among the population, because death occurred 72 hours after the first symptoms manifested. Highly-contagious, and virtually 100% fatal, it spread like wildfire before anyone could put in any precautions. In a period of months most of the human population of the planet was wiped out. No one really knows the final data because humanity collapsed so quickly that they simply stopped reporting anything. But one thing is certain; the entire world collapsed into chaos.
No cure was ever found. The only survivors appear to have been those who had a natural immunity to D-72. These people became known as "2.0" or "Twofers" because they would be the second evolution of mankind, and society.
Twofers started banding together in their own regions and forming small groups, and groups would band together to form communities. Sometimes this all happened peacefully. More often clans would form and find themselves facing off in a battle for territory and resources. That is where this story takes us.
Two large tribes formed and grew in a wooded area of what was once eastern Texas. The region had a large lake, which was a good source of food and fresh water. The area was rich with what people needed to survive, and both of these tribes knew it. Unlike some of the large communities, which were peaceful and, for the most part, communal, these two tribes were both savage and brutal, and their focus was strength and combat. Both tribes also had strong warlords who would rather destroy other tribes than incorporate them. Both made plans to attack the other tribe and wipe them out, so as to have uncontested claim to the entire region.
"The Cleansed" – An extremist religious clan who believes the earth now belongs to the followers, based on the idea that it's leader grew sick with the virus and survived, thus proving to be a living deity. All outsiders must assimilate or be eliminated.
"The Ashborn Ex Machina" – This group gathered only the survivors who are free from any taint of illness or imperfection in an attempt to keep themselves safe from disease, weakness, or even death. They kill those who exhibit any sort of weakness or contamination without hesitation, and believe the leader of "The Cleansed" to be the most obscene of all.
And so a two-day battle ensued. Both sides attacked each other, while attempting to defend their own base of operations, as well as continuing to scavenge for supplies. The battle was constant and savage and, in the end, one tribe was left standing to claim the spoils.
[/toggle] [toggle title="Field Map" open="no"] Click on image for higher resolution version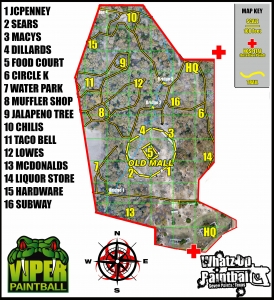 [/toggle] [toggle title="Schedule of events" open="no"]
Friday
10:00am – Camping opens
5:00pm – Check in and paint sales open
8:00pm – Check-in closes
Midnight – Quiet time – Camping areas need to be quiet. No loud partying.
Saturday
8:00am – All services open
10:30am – Mandatory Player Orientation for ALL players Noon SHARP!
Noon Sharp– Game on
2:30pm – Hydration Break
3:30pm – Game resumes
6:30pm – Dinner Break
8:30pm – Game Resumes
10:00pm – Stand Down May be earlier or later depending on participation and number of players on the field
Sunday
8:00am – All services open
9:00am – Game Resumes
12:30pm – Pre Final Battle Break
1:00pm – Final Battle
2:00pm – Game Over!
Awards and door prize drawings to follow
[/toggle] [separator top="40″ style="dashed"]
Location and Directions: